THANK YOU AND WELL DONE EVERYONE WHO PLAYED AN ACTIVE ROLE SIGNING, SHARING AND PROMOTING OUR PETITION!
In our petition we asked Theresa May and her Cabinet to –
●   Increase the rates relief for small businesses
●   Devolve the operation and setting of London's business rates to London's government
Although we don't yet know the full detail, at first glance it would seem that both these asks were met in the budget on Wednesday. Chancellor of the Exchequer – Philip Hammond said that he listened to concerns about the revaluation and announced that any business coming out of small business rate relief will benefit from an extra cap – meaning their rates will not increase by more than £50 a month. In addition to a £1,000 discount on business rate bills for all pubs with rateable value of less than £100,000 – 90% of all pubs, he announced a £300m fund to be made available to councils to allow them to provide discretionary relief. He also said that he has agreed a deal with the Mayor of London to devolve powers. The Memorandum of Understanding on Further Devolution to London signed on 8th March by Philip Hammond and Sadiq Khan sets out that:
The government is committed to delivering 100% business rates retention for local authorities in England by the end of this Parliament.
From April 2017, the GLA will take on responsibility for funding TfL's investment grant. In return the government will allow London to retain a higher share of locally raised business rates, as part of moving towards 100% local retention.
The government will explore options for granting London government greater powers and flexibilities over the administration of business rates. This includes supporting the voluntary pooling of business rates within London, subject to appropriate governance structures being agreed.
We chose asks for our petition that were inline with the broader pan London campaign, to insure that we had the best chance of influencing the government together with other business groups, London Councils, the GLA and London MP's to create change through united and strategic action. If we asked for more, or for something different, our herculean efforts may have all been in vain. Our campaign was timed, strategic, ambitious, pragmatic and our persistence paid off. Huge well done to everyone who played an active role. Together we will continue to fight for our common interests.
Founding member Sarah Haque, Director of Urban Species who was part of the delegation to deliver the petition to Downing Street said "In only two weeks we have raised up to nearly 11,000 signatures for our petition and this gives us hope that we can now tackle other issues because rates are not the only issue, this is a very small part of it. We want to live and work in East London because that's our history and we want to make a future here as well. We don't want to be driven out".
New member Len Maloney added "Small businesses should celebrate what they have achieved so far and for what they do for their local community, they should be proud of themselves, they're beautiful. Our small businesses should be treasured, especially the ones who have been in the community for a long time. Why is the Government looking to penalise us? Our workers bills are going up, their rental value is going up, how can we pay them if the Government wants to suck the money from us? The East End Trades Guild makes me feel more secure, I'm glad to be a member, it's a great idea!".
"At the moment it must be some of the toughest times for small businesses in the East End and London as a whole. The East End Trades Guild has been going a few years now through thick and thin, but I think we're getting stronger all the time. We proved that in the last couple of weeks with all the signatures we've got for for this petition. I think we should take Landlords to task next!" EETG Founder, Paul Gardner – Gardners Bags.
A brief look back at our business rates campaign:
November 2016 – Our members are encouraged to write to their MP's, asking them to table a debate on rateable values ahead of the Autumn statement. We approach Hackney and Tower Hamlets Councils regarding joining forces on a petition and an event.
December 2016 – Paul is invited to Downing Street as part of our work around Small Business Saturday and delivers a letter via Small Business Secretary – Margot James to Theresa May. Members meet with Sadiq Khan on East End Independents' Day and express their experiences to the Mayor of London, who is negotiating with government on the devolution of business rates.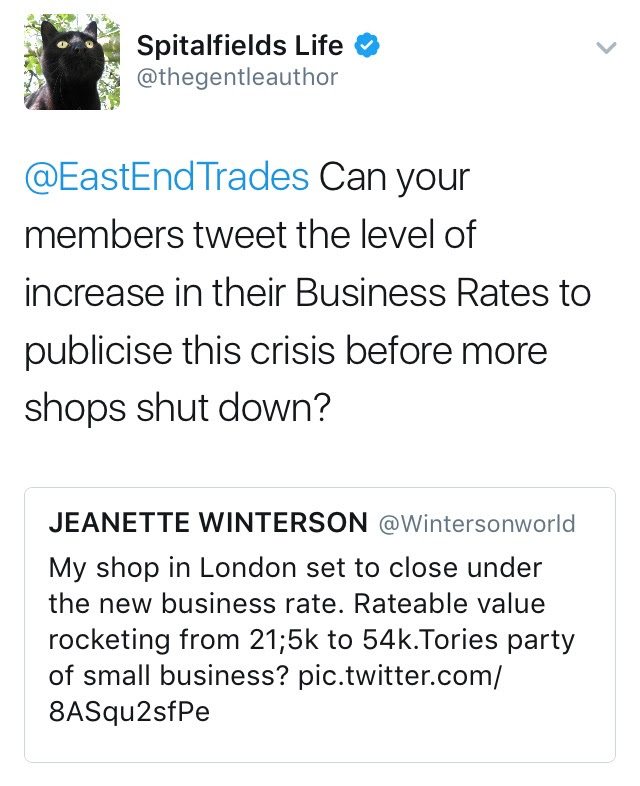 January 2017 – We meet with Hackney Council this month, and they agree to join and to help promote our petition and to support a meeting of members and allies. The Gentle Author encourages members to tweet their increases and as a direct consequence of members participation we are approached by the national press.

February 2017 – Our petition goes live on 6th February, we achieve 2000 + sign ups in two weeks and with ongoing support from stories in Spitalfields Life by the Gentle Author we're off to a flying start. Press attention intensifies with members making their voices heard on ITV, BBC, Channel 5, the Guardian and numerous local publications.
We meet with Tower Hamlets Council who also agree to become co-petitioners and to help promote it. Our emergency action on business rates event takes place on the 24th at Hackney House bringing together Philip Glanville – Mayor of Hackney,  Meg Hillier – MP for Hackney South and Shoreditch, Sue Terpilowski – Policy Chair for London at the Federation of Small Businesses with our members and was co chaired by Rachel Laurence – New Economics Foundation, Rosie Wolfenden – Managing Director of Tatty Devine and Krissie Nicolson – Director, East End Trades Guild.
The event accelerates the petition signature rate to 5,000 with one week to go and members and their supporters take to the streets with the Columbia Road crew signing up over 1,500 on paper, and many other active members collecting, giving us a grand total of 2,734 paper signatures. This combined with continued digital strategy insures that we surpass our target on time and hand in our petition to 10 Downing Street the day before the budget.
What did we win through our actions?
Both petition asks appear to have been met (detail still pending). Strategic relationships with both Tower Hamlets and Hackney Mayors, and a foot in the door with Central Government and the Mayor of London for follow up work. Increased support from the public. Increased confidence for future strategic actions. Increased visibility of our members and our Guild. Public speaking and development opportunities for our members, and so much more!
Next Steps?
At our previous gathering at Hackney House we agreed that we would meet again to strategise for the long term. The date is set for the Tuesday 28th March, 3.30pm to 5pm at Il Cudega, Railway Arch 358, Westgate St, London E8 3RN. This is a members only event. Please register here if you are coming, we need to know the numbers in case a bigger venue is required!
Due to repeated requests our books are now open for membership on a rolling basis. If you are not a member and would like to join, please see our short form here.